Membership benefits
About TIPA
Organization
Membership benefits
Intellectual Property Member Company
Participate in infringing goods investigation
Participation in intellectual property protection education
Support for cooperation with organizations related to intellectual property protection
Analysis for risk trend information
Participation in associations and related organizations meetings and workshops
Participate in dispute resolution related to unfair trade practices
Sharing of association publications
Appraisal agency fee discount
Import and export member companies
Use of the Committee for Anti-Counterfeiting (CAC) mark
Utilization of CAC counterfeit information sharing system
Confirmation of parallel importable trademarks
Participating in and taking TIPA-sponsored training
Arrange collaboration between member companies and share contact networks
Sharing of TIPA publications
<Mark example>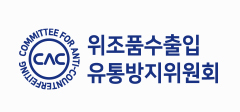 As a mark that symbolizes the Counterfeit Import and Export Commission (CAC), the Commission aims to protect consumer rights and interests through voluntary intellectual property protection activities of import/export goods distributors. It can be used by posting on the website of import/export member companies and product detail pages, "As a member of TIPA CAC, we are doing our best to protect consumers and intellectual property rights".
From 2018 to 2020, 37 items, 223 trademarks, and 691,000 points were affixed.
TIPA inspects the proper use of the certification mark every year and imposes sanctions on inappropriate users.
Special member company
Participation in investigation and enforcement of infringing goods
Utilization of CAC counterfeit information sharing system
Participating in and taking TIPA-sponsored training
Arrange collaboration between member companies and share contact networks
Sharing of TIPA publications
Infringement diagnosis fee discount